ZENITH made a lot of Pocket watches calibers. The most interesting are the one with the best finition and cases made of gold or sterling silver.
ZENITH produisit une grande quantité de calibres de montres de poche dont les plus intéressants sont ceux avec les meilleurs niveaus de finition et des boitiers en or ou argent.

Serial of calibers from 1906.
Série de calibres de 1906.

Hunter ZENITH for German market with a case made of sterling silver around 1910.
Savonnette en argent faite vers 1910 pour le marché Allemand.

The caliber is a 19.277, 19'in a very rare and luxuous version with set-hand bolt. This caliber was created by ZENITH in 1906.
Le calibre ZENITH créé en 1906 est un 19.277, 19 lignes version à châtons vissés très rare avec réglage de l'heure par targette sous la lunette.

The regulator was conceived by Charles Rosat head and technical adviser of ZENITH. It was presented in the International Review of the Clock industry in October 1903 and ZENITH secured the monopoly immediately of it.
La raquetterie fut conçue par Charles Rosat horloger régleur de précision puis chef et conseiller technique de ZENITH qui s'assura le monopole de ce système présenté dans la Revue Internationale de l'Horlogerie en Octobre 1903.

The set-hand bolt.
Le système de targette pour mise à l'heure.

The case made of sterling silver is decorated.
La boite est guillochée sur les 2 couvercles.

The medails of ZENITH.
Les médailles remportées par ZENITH gravées sur le fond intérieur.
.
This solid silver watch is not equipped with the "classic" movement 18-28.
Cette montre en argent n'est pas équipée du mouvement "classique" 18-28.

The case back is decorated as that was the fashion at the beginning of the century.
Le fond est décoré dans le style de l'époque.

The second case back is decorated with the medals received by ZENITH.
Le deuxième fond présente les médailles reçues par ZENITH.

A few watches were made in french manufactory of ZENITH today closed.
These both watches are similar, but the left one is mentinned "Made in France" on the down part of the dial.
Certaines montres furent fabriquées dans les ateliers Français de ZENITH à Besançon aujourd'hui fermés.
Ces deux montres en apparence identiques se différencient par la mention "Made in France" sur le bas du cadran.
ZENITH sold so watches for the army of several countries.The case of this one is unusual.
For put out the caliber, it's necessary to unscrew the bezel and to tip up the caliber fixed with a hinge.
ZENITH a livré également des montres à plusieurs armées.
Le boitier de la montre ci-dessous est assez inhabituel.
Pour accéder au mouvement, il faut dévisser la lunette de la boite monobloc.
Ensuite, il faire basculer le calibre fixé à la boite par une charniére.



Back of a steel case.
Fond d'une boite acier.

Probably for the American market Zenith was the " ZENITH WATCH C°" .
Probablement pour le marché Américain , ZENITH était la "ZENITH Watch C°" ce qui évitait la confusion avec Zenith Corporation.

This is the best finition for a caliber made by ZENITH.
C'est la meilleure finition pour un calibre ZENITH de poche.

The caliber is a 17 3/4 created in 1921, but this watch was achevied in on 17th december 1935.
Le calibre est un 17 3/4 conçu en 1921 mais la montre fut achevée le 17 décembre 1935.

Le décryptage du calibre

LOGO ZENITH WATCH C°

The advertising (for Germany)from 1909 shows the caliber of the watch and qualities of ZENITH as manufacturer of movements.
La publicité ( Allemande)de 1909 présente le calibre des montres de poche significatif de la volonté de ZENITH de montrer ses qualités de fabricant de mouvements.
.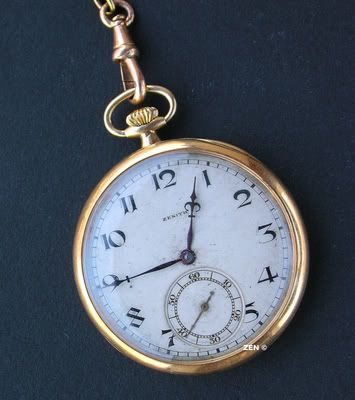 The case of this ZENITH is made of gold 18KT.
La boite de cette ZENITH est en or 18 carats.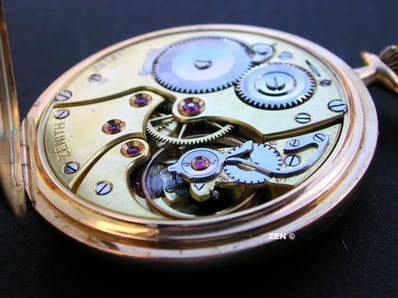 The caliber is a 17" with a great finition.
Le calibre est un 17 lignes avec une finition très soignée.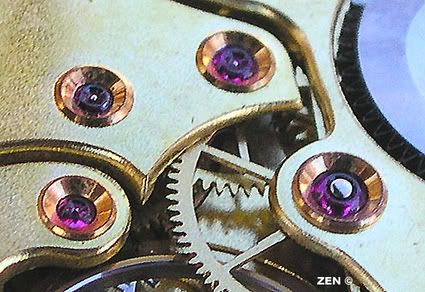 The Regulator patented by ZENITH. La raquette Brévetée par ZENITH
.


A Pocket watch by ZENITH
Cette montre est dans une boite monobloc. L'accès au calibre se fait par la lunette.
.


A big pocket watch by ZENITH from the begining of the 20'.
Une grosse montre de poche Zénith des années 20.

Caliber ZENITH from 1925.
Calibre ZENITH de 1925.

Pocket watch for British and US army with central second from 1942 caliber 19-34-3-T.
Montre de 1942 pour l'armée Anglaise et Américaine avec seconde centrale, calibre 19-34-3-T.