ZENITH WATCHES COLLECTION.
MONTRES ZENITH DE COLLECTION.

Before to be baptized ZENITH, manufacture created by Georges Favre Jacot bore his name as its watches. Laterthe name of Billodes was given before "Zenith " in 1906.

Avant d'être bâptisée Zenith, la marque du Locle s'appela Georges Favre Jacot puis Billodes du nom de la rue ou se trouvent les ateliers de la manufacture. Le nom de Zenith ne fut donné qu'en 1906.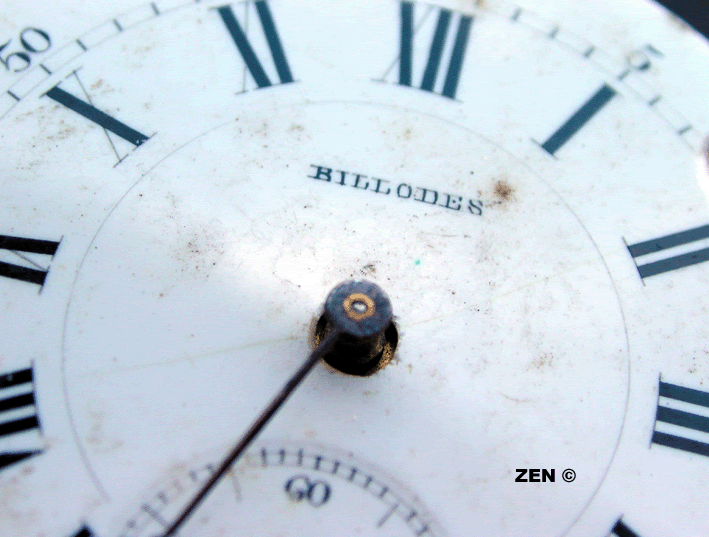 This is one of the watch made during the "Billodes period"
Une montre de la période "Billodes".



Here is the caliber 54 about 1880 in a watch for Russian market
Ici le calibre 54 vers 1880 dans une montre fabriquée pour le marché Russe.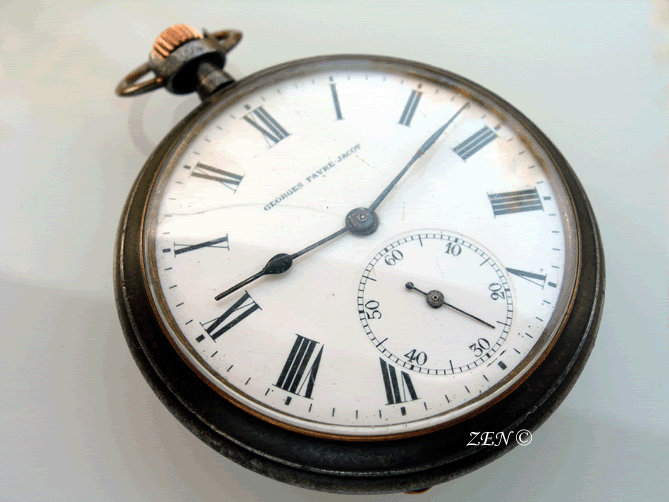 This watch was made on 8th february 1915 for Russian market with the name of Georges Favre Jacot.
Cette montre fut fabriquée le 8 février 1915 pour le marché Russe où le nom de ZENITH n'avait pas encore atteint une notoriété suffisante...

.
The Caliber 18-28
.
The CALIBER ZENITH 18.28 is one of the most frequent found in ZENITH pocket watches.
There is a great variety of models of this kind of watches.
One of the most beautiful finition for this caliber with a jewel in center et others finitions...
This caliber was made for the first time in the beginning of the 20 th century.
In 1983, ZENITH sold a last serial of three times twenty five watches within this caliber.
The COSC found an exceptional result when the calibers were controled.
-
LE CALIBRE de montres ZENITH 18.28 est l'un des plus fréquents dans les modèles de montres de poche ZENITH.
Il en existe une grande variété...
L'une des plus belles finitions du calibres avec empierrement au centre et d'autres variantes...
Ce calibre fut produit pour la première fois par la manufacture ZENITH vers 1905.
Une série limitée de trois fois vingt-cinq pièces fut produite en 1983.
Le COSC auquel furent présentés les calibres les distingua pour leurs résultats exceptionnels.

The version with a jewel in the center of the caliber is the best one particulary chronometer certified models.
La version empierrée au centre est la plus belle déclinaison de ce calibre.
Les modèles certifiés chronométres comptent parmi les plus intéressants.

This model was produced among the last with being equipped with the movement 18-28.
Ce modèle date de la fin de la période de production du 18-28.

This solid silver model is chronometer certified.
Modèle en argent certifié chronomètre.

With its Breguet hands this watch particularly is successful.
Avec ses aiguilles Bréguet, cette montre est très réussie.

ZENITH pocket watch made of silver.
Gousset ZENITH en argent 925 millièmes.

The caliber is a 18-28.
Le calibre est un 18-28.

The medails of ZENITH are engraved in the back of the case.
Les médailles de ZENITH gravées dans la face interne du fond témoignent de l'ancienneté de la montre ( vers 1910 )

The case is exceptional and massive.
La boite cannelée est massive est particulièrement bien dessinée.
This case was made by ZENITH.
Cette boite comporte un poinçon qui atteste e la fabrication de la boite par la manufacture elle-même.
.


Another Pocket ZENITH with a case made of sterling silver.
Autre montre gousset ZENITH en argent.

Leather Box from the beginning af the century.
Boite en cuire et intérieur en velour pour gousset (vers 1910)

One of the fisrt logo from ZENITH.
L'un des premiers logos de ZENITH.

The movement ZENITH 18-28 for pocket watches.
Le mouvement ZENITH 18-28 de montres de poche.

Another ZENITH pocket watch with its scars.
Une autre ZENITH de poche avec ses cicatrices.
.


A pocket ZENITH in a black steel case.
Montre de poche ZENITH avec sa boite en acier noirci.

Its movement 18".
Son mouvement 18 lignes n'est pas un 18-28.
.


A white steel case for this one.
Une boite en acier blanc pour celle-ci.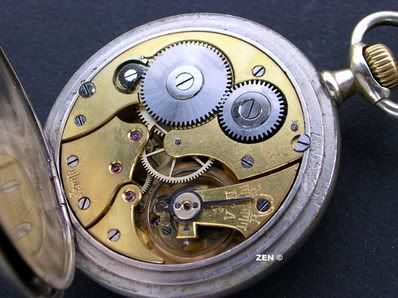 And a caliber 18".
Et un calibre 18 lignes.

Two kinds of brands for these twio watches made in the french manufacture of Besançon.
Deux types d'aiguilles différentes pour ces deux montres sorties des ateliers Français de Besançon.
.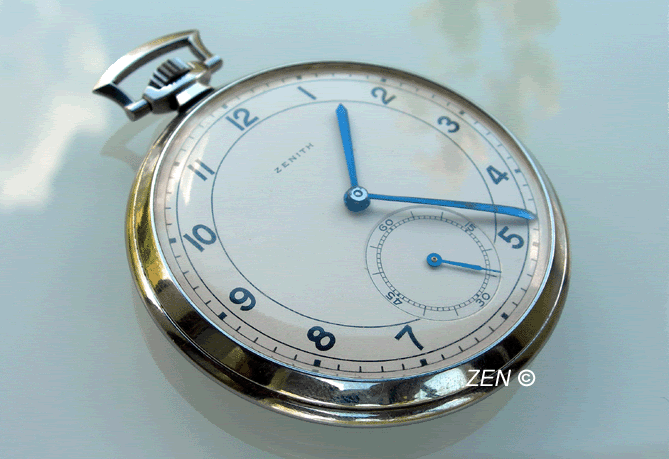 This model from 1929 is very particular because the mouvement ZENITH is made of steel and the case of Staybright.
Modèle particulier de ZENITH de poche de 1929 doté un calibre acier.

TOUTES LES HISTOIRES DE MONTRES SONT SUR FORUMAMONTRES
(lien dans l'image)