ZENITH CHRONOGRAPHS.
CHRONOGRAPHES ZENITH.
All the chronographs made by ZENITH were excellent watches.
Before the EL PRIMERO two family of calibers ZENITH are famous.
The 146/156 family that we can find in the Universal watches ( from Martel watch) and the 136 family (from Excelsior Park).
The both are of an excellent quality and necessary to get in a good collection.
Tous les chronographes produits par ZENITH furent d'excellentes pièces d'horlogerie.
Avant l'ère du EL PRIMERO, deux familles de calibres de chronographes ont contribué à la renommée de ZENITH.
La famille des 146/156 de Martel Watch que l'on retrouve également dans les montres Universal et la famille du 136 issue de la technologie d'Excelsior Park.

.


ZENITH chronograph with stainless steel case and the caliber ZENITH 146 D.
Chronographe ZENITH en acier deux compteurs avec le calibre ZENITH 146 D.

.


Version of ZENITH chronograph with solid gold case 18 K and caliber ZENITH 156 D.
Chronographe ZENITH avec boite or 18 carats et calibre ZENITH 156 D.

CALIBER 146 H - CALIBRE 146 H
The caliber 146 D is a 1/5 chronograph with bouble push-piece, with 45 minutes recorder-14" round movement 17 jewels, small seconds hand-Lever escapment- 18 000 oscillations per hour.
The version 146 H is the same with 12 hours recorder and 30 minutes recorder.
The version 156 are identical but they are with 15" and not 14" as the 146.

Le calibre 146 D est un calibre de chronographe au 1/5 de seconde à double poussoir et compteur 45 minutes. Mouvement à 14 lignes rond et 17 rubis, petites secondes, échappement à ancre et 18 000 alternances par heure.
La version 146 H différe par un compteurs des minutes réduit à 30 minutes et la présence d'un compteur des heures de 12 heures.
Les versions 156 H et D sont identiques aux versions 146 mais en version 15 lignes au lieu de 14.
The Rainbow Fly-Back is certainly the most famous Chronograph from ZENITH during the 20th century.
Thought for French army in 1995, the models was showed for the first time in 1997 during the fair of Basel.
Le Rainbow Fly-Back est certainement l'un des plus célébres Chronographes fait par ZENITH durant le 20ème siécle.
Initialement conçu pour répondre à un Appel d'offres de l'Armée Française, il fut finalement diffusé auprés du grand public en Novembre 1997 après avoir été présenté à la foire de Bâle mars.

This Chronograph was made for professional use.
Ce chronographe fut délibèrément conçu pour un usage professionnel.

For its chronographs, ZENITH used calibers manufactured outside manufacure but produced also directly certain movements of which this one in 1910.
Pour ses calibres de chonographes de poche, Zenith utilisa des calibres fabriqués à l'extérieur de la manufacure mais produisit aussi directement certains calibres dont celui-ci en 1910.
These chronographs were the first made by ZENITH.
Ces cronographes furent les premiers faits par ZENITH.
TOUT CE QUE VOUS VOULEZ SAVOIR SUR L'HORLOGERIE EST SUR FORUMAMONTRES
(lien dans l'image)
ZENITH automatic watches.
Montres automatiques ZENITH.

The calibers with 28 800 vibrations per hour were a great technogical performance during the 70'.
The brands were obliged to try several adjustments before to make the choice of 28 800 vibrations.
ZENITH made automatic calibers and self winding watches...
Les calibres fonctionnant à 28 800 alternances par heure représentent une grande performance technique des années 70.
Les marques tentèrent à l'époques plusieurs expériences avant de s'arréter sur ce choix.
Zénith développa des calibres offrant cette fréquence tant dans les gammes automatiques que manuelles.

.


Case in gold for this New Old Stock with a self winding caliber 2562.
Boitier or pour cette "Neuve de Stock" avec un calibre automatique 2562.

.


The back of the case was protected by a red film.
Le fond était protégé des rayures par une couche de vernis rouge.
.


Logo on the crown.
Le profil de la montre laisse apparaitre le logo sur la couronne.
.


Model Autosport with self winding caliber 2542 PC.
This watch was made in France, in the workshop of Besançon.
Modèle Autosport avec calibre automatique 2542 PC.
Cette montre fut fabriquée dans les ateliers Français de ZENITH à Besançon.

.


Model Sporto gold filled with a hand winding caliber 2562 from 1972.
Modèle Sporto en plaqué or avec calibre à remontage manuel 2562 de 1972.
.


The Captain certified chronometer was a best seller of the brand. There is so a version "De luxe".
This one was made in 1967 with a caliber 2542 PC
Le modèle Captain fut un vrai succés pour ZENITH.Il en existe aussi une version dite "De luxe".
Celle-ci fut fabriquée en 1967 avec un calibre 2542.

Another captain New Old Stock with original steel strap.
Une autre Captain Neuve de Stock avec son bracelet acier original.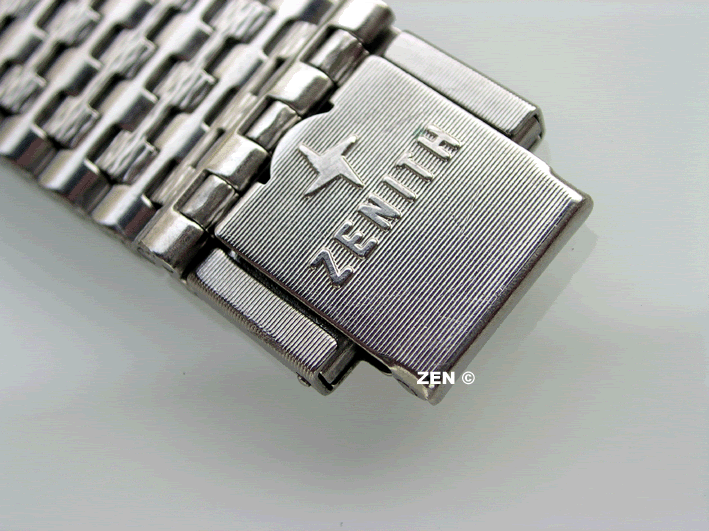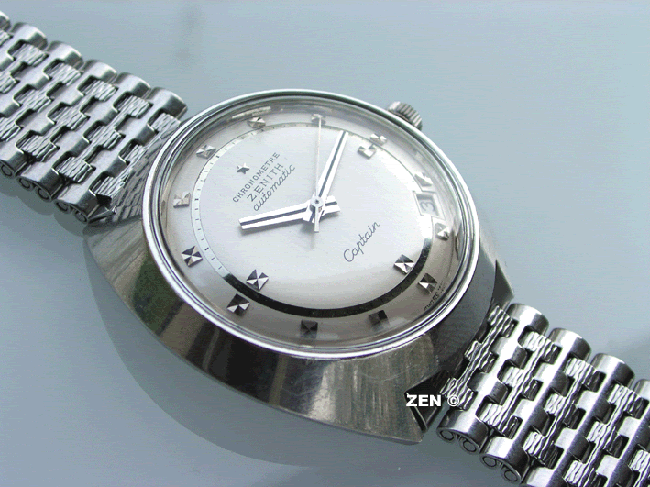 .


SURF self winding caliber from 1975 with a caliber 2572 PC.
Modèle automatique SURF de 1975 avec un calibre 2572 PC, l'un des derniers produits par ZENITH avant l'ère du quartz.
.


Another version of the SURF from 1972 with a caliber 2572 PC.
Une autre version du modèle SURF de 1972 avec un calibre 2572 PC.

.


This Port Royal from the 80' was not made with a caliber of ZENITH Manufactory. This watch has a caliber ETA 2892 inside.
Cette montre ZENITH ne renferme pas un calibre de manufacture mais un calibre 2892 ETA.