Hand winding ZENITH watches.
Montres mécaniques ZENITH.
There was a great production of wristwatches of ZENITH with hand winding calibers.
For men or for ladies all these watches have the same interest : A very good caliber .
ZENITH eut une production abondante de calibres à remontages manuel pour hommes ou pour dames.
Pour tous, la tradition de qualité de la marque fut une constante.

The most famous : The "ZENITH 135"
Le plus connu : Le "ZENITH 135"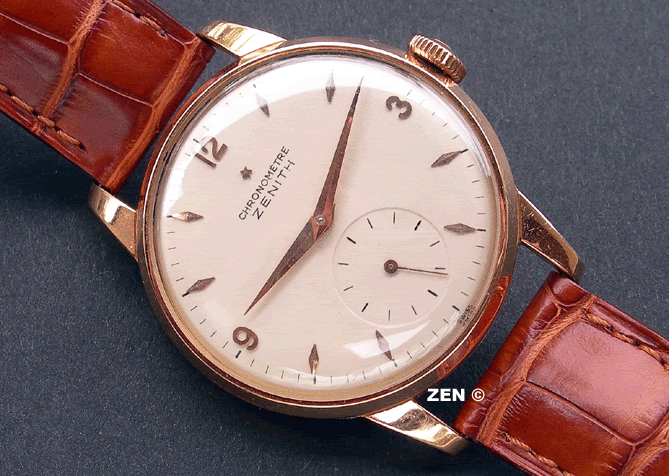 This model with a case made of solid gold was made in june 1954
Ce modèle en or 18 carats fut fabriqué en juin 1954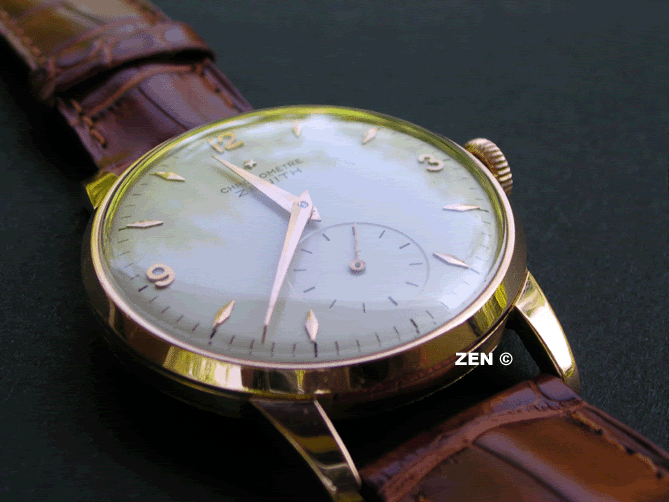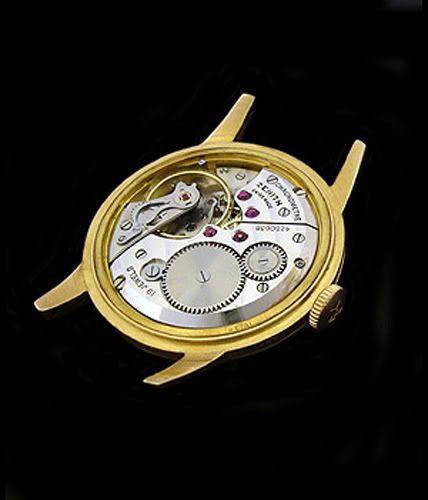 The most famous caliber hand winding made by ZENITH is certainly the 135. 11'000 were produced between 1948 and 1962. There are several version early all chronometer certified. A yellow version was made during the first years and a white one since the beginning of the 50'. The "ZENITH 135" is known as the best hand winding caliber made in the history of the wristwatches.
Le calibre le plus connu parmis ceux à remontage manuel est certainement le ZENITH 135 fabriqué de 1948 à 1962. Il en existe des versions jaunes non certifiées chronomètres mais la grande majorité des 11 000 pièces fabriquées sont jaunes certifiées jusqu'au début des années 50 puis blanches rodhiées côte de Genève jusqu'à la fin de la production. Quelques version blanches circulent toutefois non certifiées probablement en provenance du SAV.

Watch for men from the 50'with small second at 6 .
Montre d'hommes des années 50 à petite seconde à 6 heures.
.


Another model made in Besançon in stainless steel from 1955/60 with a caliber 106 P.
Un autre modèle fabriqué à Besançon de 1955/60 équipé du calibre 106 P.
.


Extra thin watch with a caliber 2310 from 1973 without second hand.
Montre extra-plate sans trotteuse de 1973 avec un calibre 2310.
.


The case of this one is made of gold.
Le boitier de celle-ci est en or.

.


This wath with a case made of stainless steel is a model from 1961 with a caliber 2522 C, 18 000 vibrations per hour.
Montre acier fabriquée en 1961 avec un calibre 2522 C, 18'000 alt/h., 17 rubis, réglage plat, parechoc, Duofix.

.


New Old Stock watch gold filed with date from the end of the 70'.
Montre neuve plaquée or avec date de la fin des années 70.

.


Watch for ladie with small second ( caliber 88)
Montre de dame avec petite seconde ( calibre 88)
.


Caliber 88 of watches for ladies.
Calibre 88 de montres de dames.
.
ZENITH CALIBER 106-50.6
CALIBRE ZENITH 106-50.6
The Calibers of the 106' family were made from 1944 to 1957 by ZENITH.There were less than 100 000 units produced.
The 106-50.6 with central second was made in Le Locle and in the French workshop of ZENITH in Besançon.

Le calibre ZENITH 106 et se variantes fut produit de 1944 à 1957 à un peu moins de 100 000 exemplaires toutes versions confondues.
Le 106-50.6 à seconde centrale connut lui-même plusieurs versions pour fiabiliser la régularité de fonctionnement de la trotteuse.
Il fut produit dans les ateliers du Locle et dans ceux que ZENITH possédait à Besançon.

106-50.6 must be compared with the 106.Le 106-50.6 est à comparer avec le 106.

Here the 106.Ici le 106.

The ratchet is the same in the both models.
La raquetterie est la même dans les deux versions.
-o0o-
Some models of the 106-50.6...
Quelques modèles équipés du 106-50.6...

Here a gold filled watch.
Montre plaquée or.

Some back of cases. Quelques fonds de boites.

SOYEZ CURIEUX, TOUTES LES MONTRES SONT AU RENDEZ-VOUS SUR FORUMAMONTRES
(lien dans l'image)